This review will show you WP Staging in action, as your next and definitive WordPress Staging Site Plugin. 
Whether you have a niche website and want to succeed with Affiliate Marketing or other ways to make money, you need to test your site.
Within a few clicks, you can clone your existing website with ease to a developer's environment, where you can test everything before going live.
Indeed a great tool that is very easy to use and for creating testing sites is free.
I have tried and tested the free version of the plugin to make changes to my site, built with Elementor Pro.
So I decided to make this article that will show you how to install, run, and use WP Staging easily.
Let's dive into that.
Disclaimer: This article contains affiliate links, to products or services that I recommend, after thorough testing or research. By following these links, you will not have any extra cost in the event of a purchase or service acquired, and these affiliate links support the mission of my blog. For more information, you can read my Disclosures Page.
Why I Trusted WP Staging For This Website
With so many plugins out there, there is always a risk of using a poorly-coded one that can create trouble for your website.
I came across WP Staging because I needed some support regarding some CSS customizations in my WordPress-managed site, where you are at now.
This is independent of which is your server, but my site is built and hosted by SiteRubix. You can create your websites with ease at SiteRubix and learn everything you need to configure, manage, and monetize them when you join my #1 recommended all-in-one platform: Wealthy Affiliate.
Since I use Elementor Pro Visual Builder for my website, I got in contact with the Pro Support Team at Elementor, and they kindly helped me to solve the problem.
And during the process, they gave me the recommendation to do my custom CSS settings in a WP staging environment and to use WP Staging for that purpose.
Now if you need reliability in something, then consult the Professionals.
If Pro Senior Developers of the number one visual page builder on the planet use and recommend WP Staging, then there must be a reason.
Besides, the Plugin active installations are over fifty thousand, and the rating is five stars, on average, over 1,546 reviews.
So that is the first thing you need to know: Use it with confidence.
WP Staging Is Very Easy To Install
How they say, "a piece of cake." If you are a WordPress user and have the necessary know-how, then you know how to install a plugin. Installing WP Staging is not any different than all other plugins.
For those who are giving their first steps with their WordPress website, here you are an easy to follow how-to guide.
1. Add A New Plugin
From your WP Dashboard screen, on the sidebar, hover over Plugins, and click on Add New.
2. Search For WP Staging
From the Add Plugins page, type on the search bar "WP Staging" and wait for the options to load.
3. Install WP Staging
Click on the "Install Now" button of the WP Staging plugin card and wait a few seconds until the installation is completed.
4. Activate WP Staging
Once installed, the button will change to "Activate." Click on it, and that is about it.
5. The WP Staging Plugin Is Installed And Activated
Once the plugin is installed and activated, the screen below will show. The screen shows you the advantages of the WP Staging upgraded product (paid). You can ignore that page. On the bottom left, you will have your new plugin and its options added to your sidebar menu.
Now you have WP Staging installed, let's learn how to use it to create your Staging Site.
WP Staging is a user-friendly WordPress Staging Site Plugin
In a couple of minutes, you installed WP Staging, now you want to use it, and it is also super-easy and anyone's friendly.
Some many settings and options come with this free-version plugin. But for this article, we will focus on the primary purpose, clone your site.
Your new clone can be used as a staging environment for testing changes, styles, and anything that you want to try and feel, before doing it on your actual site.
You may be wondering, then why a clone? The reason is that you can test your changes with all that is already installed and in use, from other plugins to databases. This allows you to pinpoint the effects of your changes in the real environment of your website, but without changing the live site.
Now that you know these basic concepts, here is how easy it is to create your staging sites.
1. Open WP Staging Site/Start Option
From the WP sidebar, hover over WP Staging and click on "Sites/Start"
2. From the WP Staging "Sites/Start" Page Create Your Staging Site
Once you are on this page, first, click on the blue button "Create New Staging Site."
In an instant will appear another screen where more settings can be made or proceed to create the staging site directly.
Name your Staging Site
Click "Start Cloning"
Wait for the installation to finish
That will start the process of cloning your site, in other words, making an exact copy of your site with all its functionalities. Except that this will be a testing site, and no one can access it unless you share the URL (you may want to do so with your developer, for instance).
Also, by default, the staging site URL comes with disabled indexing options. You don't want a testing site to be indexed.
The URL of the testing site is nothing but a subdirectory of your own site.
Once the testing environment site has been created, the process finishes, and you will have a link button. With this button, you can sign in to the testing site with your same WP credentials. And there you go, you can start now making your site tests and changes with all confidence!
WordPress Staging Plugin For Free
WP Staging is a free plugin. It can be installed as shown above, directly from your WordPress backend, but you can also download the plugin and then upload the file to WP.
Regardless of the method, the plugin is free to create staging sites.
For advanced and enhanced functions, WP Staging also comes in a Pro version.
What Is Included In the Pro Version
The Pro Version of WP Staging comes packed with tons of additional features, including:
Cloning – Create a clone of your website with a simple click
Push Changes – Copy plugin and theme files from staging to live site
Authentication – Staging Site is available to authenticated users only
High Performance – Cloning process is fast and does not slow down website loading
Secure – WP Staging is coded well for protection of your data
Multisites – WP Staging Pro allows to clone and push Multisites, (main site & sub sites)
Perhaps one of the most important features in WP Staging Pro is that you can migrate the changes made on the clone site, to the live site.
The Pro plugin license also includes some other great features:
Migration Service
Every license of WP Staging includes an optional free transfer of your website to another host or domain, done by their Engineers.
Cloning to Separate Database
You can clone your WordPress website to a separate database and another subdomain.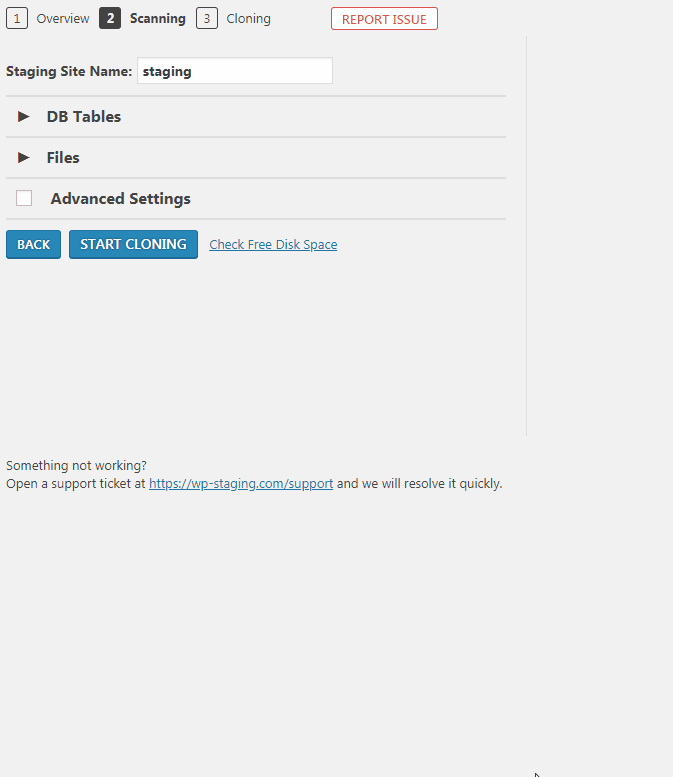 Take Database Snapshots
Snapshots will be created automatically before a staging site is pushed or can be created manually.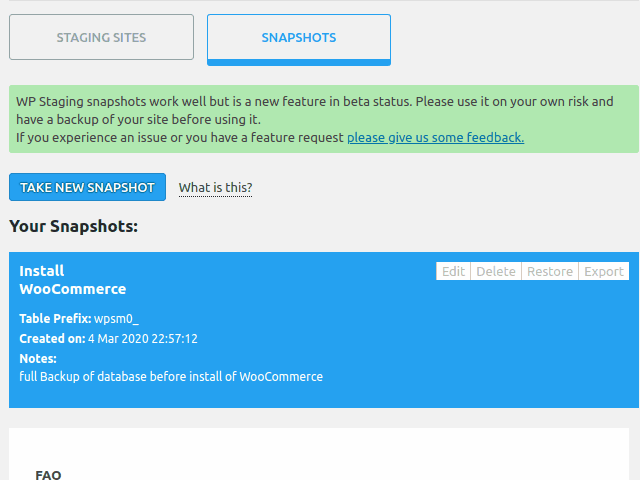 Final Words
In conclusion, when looking for a WordPress Staging Site Plugin that is reliable and you can use for free for the basic functionality, you can count on WP Staging.
I hope you found this post of use and that you share it with your friends or colleagues using WordPress, because it may become handy for them too.
So now, go on and create your staging site and try all your changes before you make them on your live site.
If you have any questions or comments, please leave them in the form further down, and I will be answering you as soon as humanly possible.
Thank you for being here!